All of us here at eSpeakers want to send our best wishes to all of you in the speaking industry during this challenging time. These are these unprecedented times in this industry, but there's something you can do right now.

When we see a challenge, we also see opportunity. Many companies are instituting work-from-home policies and social distancing. This new work environment is challenging for many employees, creating a more fragmented workforce and straining company morale.

We believe that you can help ease concerns and boost morale through virtual presentations. We see virtual events becoming extremely popular in the upcoming months.
How is eSpeakers Helping?

We have added "Virtual Presentation" to our search filter on eSpeakers Marketplace and other directories we power. This allows event organizers to find those experts who are able to present virtually using a tool like Zoom.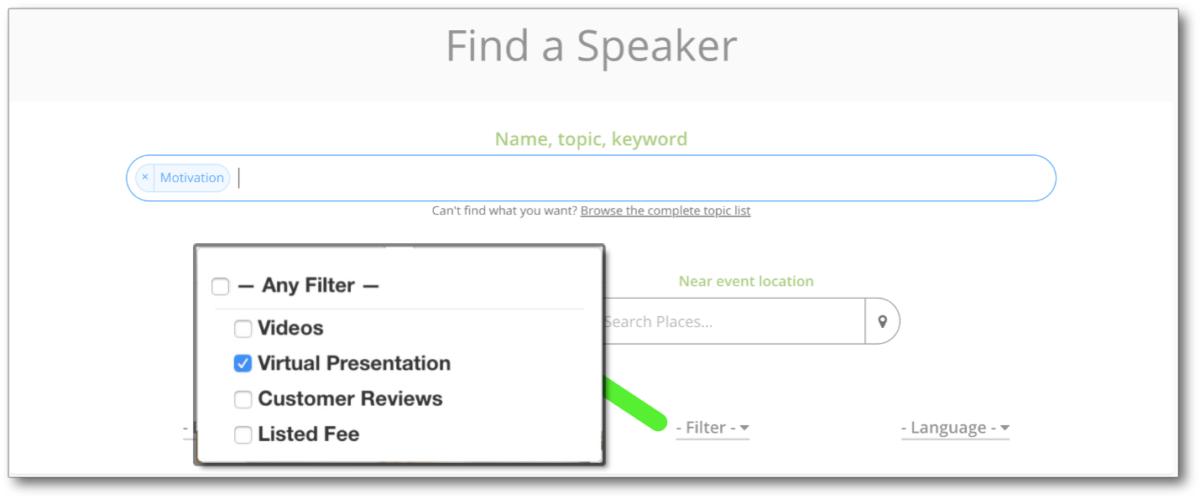 We are currently promoting virtual presentations to event organizers around the world as an alternative to live events, and to help build company morale. This is live as you read this, and we are already seeing increased profile views for speakers doing virtual presentations.
How Can You Help?

If you are equipped and capable of presenting remotely using a tool like Zoom, you need to identify that capability in your eSpeakers profile. We'll take care of the rest.
MARK YOUR PROFILE AS VIRTUAL READY

To be found in the "Virtual Presentation" search filter above, tag your presentation(s) with the "Webinar / Virtual Presentation" presentation type.
You can do this in two ways.
Login to eSpeakers and go to MY PROFILE. Then select PROGRAMS and then click edit next to the programs you can present virtually. Once you are in edit mode on your program, click the program type drop-down menu and select WEBINAR / LIVE PRESENTATION. Save your change and now that program will be found when an event organizer searches with the "Virtual Presentation" search filter. The only draw-back to this option is that when all the restrictions are lifted and you go back to your regular business, you may want that program listed under a different presentation type.

The other option (preferred) is to add a new program just for virtual presentations. You would add Virtual presentation as the program title, and you would write something like this in the program description. "I can present any of my programs virtually. My office setting is professional and I have high-quality equipment to broadcast my virtual presentation." You wouldn't have to make any changes to your existing programs with this option.
If you are ready now to present remotely, take 2 minutes to identify yourself that way on your eSpeakers profile so that you'll come up when event organizers filter for that.
We have one additional suggestion we have for you: incorporate "epidemics and pandemics" into your Force Majeure terms in cases where a client is hesitant to sign off.

We've faced hard times like this in the past as an industry, and we've battled through them together. Here's to brighter weeks and months ahead.

Sincerely,

Joseph Heaps & Dave Reed
eSpeakers