The member directory on speakerslatam.org is powered by technology from eSpeakers.
If you don't already have an eSpeakers account, the Latam Speakers Association will provide you with a Basic level eSpeakers.com account at no charge as part of your Latam Speakers Association membership.
Many professional speakers already have an eSpeakers account. If you do, you can link your existing account to the Latam Speakers Association member directory and do not need to create a second account.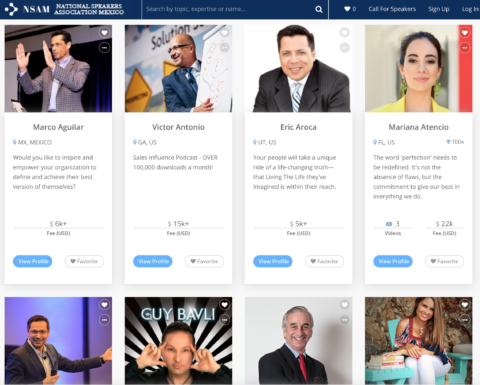 Do you want to be a Certified Virtual Presenter?
Getting ready to certify as a virtual presenter? It's a great way to let your customers know you've got the equipment, environment, and skill to deliver a great remote presentation.
To become certified, you will schedule an appointment with an eSpeakers certifier. Plan for 30 minutes, but the process is usually complete in about 20. Here are some important things to keep in mind before your certification:
At the scheduled time, you and your certifier will meet in the pre-arranged virtual meeting room (Zoom, Webex, etc)

Certify in the same physical room using the same equipment that you typically use for remote presentations

Dress like it's the real thing: the final part of the certification is to record a short video clip that becomes your "virtual proof"

Prepare for your 60-second virtual proof video. It will become a part of your public certification record and will also be added to your eSpeakers profile.