Be our guest at a free Virtual Master Presenter course

preview hour.
Experience for yourself why so many experienced virtual presenters invest in the Virtual Master Presenter certification at a free preview hour on December 5 or 7.
Be our guest at either one of these free preview hours, where course instructor Rebecca Morgan, CSP, CMC, CVP, VMP, will teach real tips from the full course:
Avoid common virtual presentation mistakes that nearly no one is talking about

Increase your audience engagement with tools at your fingertips

Help your audience feel more connected to you

Create more compelling slides
Join either preview
Tuesday December 5, 2024
9:00 am PT (12:00 pm ET)
Thursday December 7, 2024
3:00pm PT (6:00pm ET)
In the preview hour you will learn new things that will up your virtual game, and you'll also find out if the full certification course is right for you.
You're a good virtual presenter. After all, you've been giving virtual presentations for awhile and you've learned some tricks along the way. 
But "good" doesn't cut it anymore. People have sat through too many "good" (some would say "okay," or even "mediocre") virtual presentations. It's time to up your game to stand out. Virtual presentations are here to stay. You can't afford to remain just "good."
Your livelihood depends, at least in part, on you mastering virtual presentations. And when you do, you'll see your revenue soar. 
You want to lead more engaging, thought-provoking, interesting, interactive, memorable presentations.
But how?
Best practices and innovative techniques for virtual business presentations are hard to find. Watching hours of YouTube videos yield few usable ideas. You don't want to waste time watching videos for elementary teachers.
Join this free brief preview as Virtual Master Presenter course designer and instructor Rebecca Morgan, CSP, CMC, CVP, VMP, shares some of the most common issues she sees with virtual presenters. This hour-long session gives a sampling of what is covered in depth in the Virtual Master Presenter course. Already know you want to enroll in the VMP course? Register here ->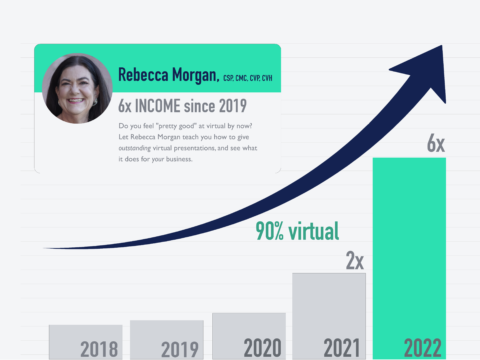 Course instructor Rebecca Morgan, CSP, CMC, CVP, VMP, has been giving professional, in-person presentations around the world since 1980 and virtual presentations since 1996. She was a pioneer in virtual presentations and now is one of very few who's earned the designations of Virtual Master Presenter (VMP), Certified Virtual Presenter (CVP), Certified Speaking Professional (CSP) and Certified Management Consultant (CMC).
She's researched and experimented with what makes engaging live, virtual presentations and will share what she's learned. She blends her expertise in adult learning, professional speaking, and virtual presentations to bring you the best practices she's discovered.
She's appeared on 60 Minutes, Oprah, the Wall Street Journal, Forbes.com, National Public Radio, and USA Today, as well as international media. Rebecca is the bestselling author of 28 books. Two have sold over 250,000 copies each and have been translated into 9 languages.
Many world-class organizations have engaged Rebecca to develop in-person and virtual presentations on management, communication, customer service, and sales. These include Apple, Hewlett-Packard, Adobe, Microsoft, Singapore Airlines, Wells Fargo Bank, New York Life Insurance, ING-Singapore, Shangri-La Hotels, and Stanford University, among many more